Forstater v CGD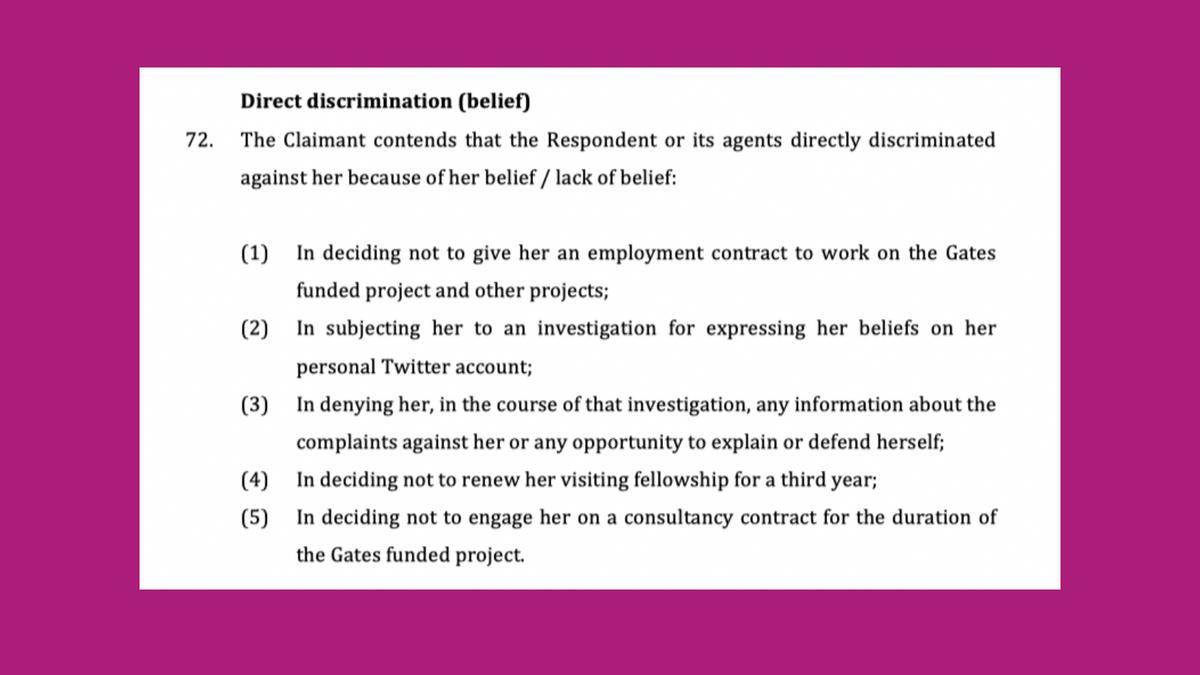 In September 2018, when the UK government was consulting on whether to reform the Gender Recognition Act to gender self-ID I started to tweet about the subject. I was working at the European office of a US headquartered organisation; the Center for Global Development (CGD). I was subject to an investigation. and I lost my job. I brought a claim for belief discrimination, harassment and victimisation.
There is a pretty good Wikipedia page on the case.
November 2019 - Documents from the first hearing
In December 2019 I lost the preliminary hearing in the Employment Tribunal which concerned the question of whether gender critical beliefs (and lack of belief in gender identity theory) are protected under the Equality Act 2010 protected characteristic of religion or belief. The "gender critical" belief was judged not to be "worthy of respect in a democratic society".
April 2021 - Documents from the Employment Appeal Tribunal hearing.
I appealed this and, In June 2021 the original judgment was overturned by the Employment Appeal Tribunal. This created a legal precedent that people should not face discrimination or harassment at work or as users of services because of their beliefs about sex and gender identity. CGD decided not to appeal further against the EAT's judgment.
March 2022  - Documents from the Employment Tribunal - full merits hearing.
The next stage was the full merits hearing, where the tribunal was asked to judge whether I had been discriminated against. If found that I had faced direct discrimination. The Tribunal  recognised that I had been entitled to criticise those holding an opposite view , and had done so legitimately. The Tribunal found in particular that the mere fact that offence may be taken to a particular statement was not sufficient to render it incapable of legal protection. This included describing opposing views as "stupid, dangerous or unfair" and the statement that allowing male-bodied individuals access to women-only spaces gave rise to "an increase in risks, threats and discomfort" to women.
March 2021 - Remedy hearing