Susie Green tells the truth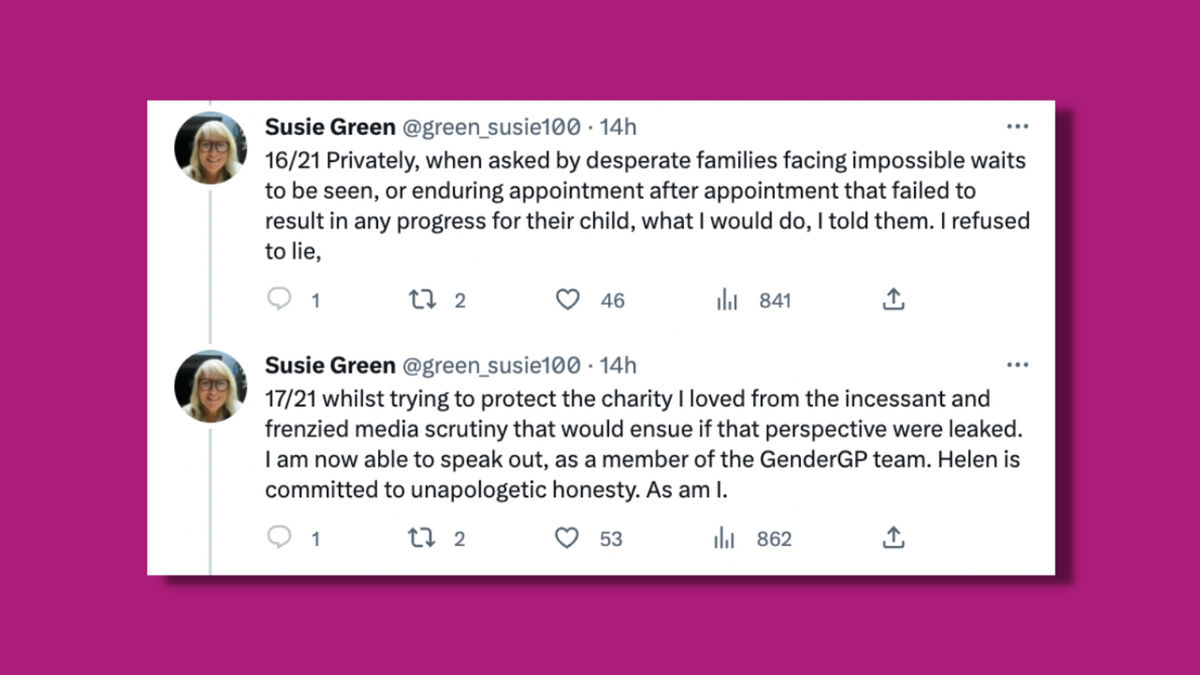 The recent TGEU "Landscape report" on what it terms the anti-gender movement in Europe tells this short story:
"Attempts at defunding have impacted the charity Mermaids, which supports trans children. An anti-trans social media campaign convinced the Big Lottery Fund to review their grant, though funding was upheld when the claims were found to be baseless."
This refers to events in 2018/19 when Mermaids was given a £500,000 grant by the National Lottery Community Fund. Over 800 people wrote to the fund (both for and against awarding the grant). It undertook a review and raised the concerns with Mermaids, which denied them all. The lottery took these denials in good faith and awarded the grant.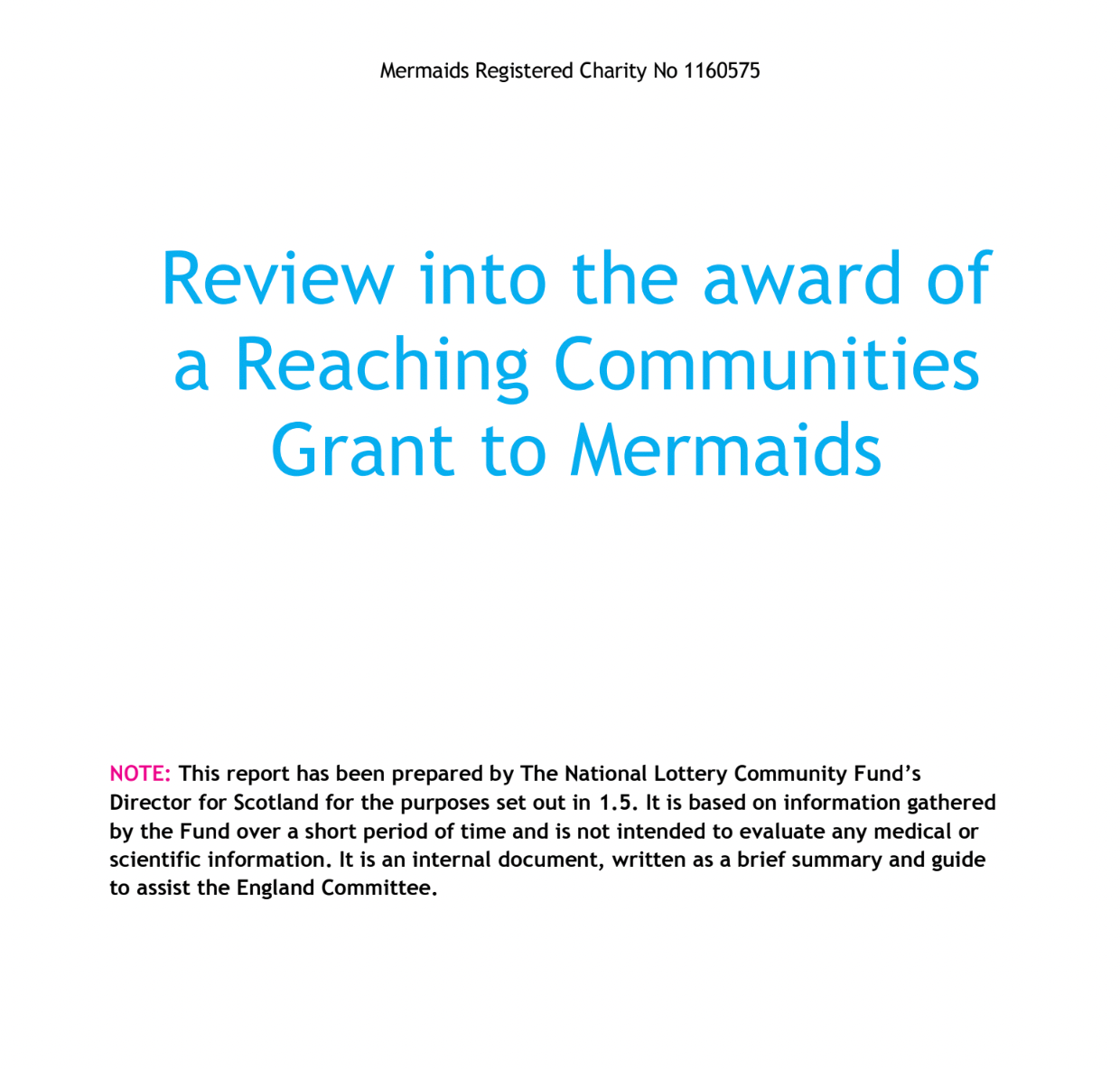 Susie Green, the CEO of Mermaids at the time, said :
"The review process was very transparent and open, the community fund talked us through the steps that would be taken and gave full disclosure of the issues that were raised, and the progress of the investigations into the allegations made. We were given full opportunity to respond and discuss, and expected timelines for the review process itself."
Yesterday, in the wake of Dr Helen Webberley winning her appeal against the General Medical Council, Green (who now works for  Webberley's private prescription service Gender GP) tweeted an extraordinary thread which gives a quite different account than that given to the National Lottery review.
This post revisits some of the allegations the National Lottery considered, Mermaid's responses at the time and Susie Green's statements yesterday, as well as evidence given by Mermaid's Chair Belinda Bell to the Tribunal in the LGB Alliance case.
---
Allegation: Mermaids favours and lobbies for a medical treatment pathway as a main route to support for children experiencing non-conforming gender identity
Concerns were raised that Mermaids prematurely pushes for life-altering medical interventions before, or instead, of exploring alternative routes.
"Mermaids deny this allegation. Mermaids state that it does not "favour", "lobby" or "push" for medical intervention (which should not, in any case, be identified with surgical intervention). They state this is not the role of the charity. Mermaids provides a wide range of advice and support to children and their families and that its focus is not medical treatment."
The National Lottery said "an organisation which promoted a medical pathway above all other options would not be an appropriate recipient of our grants."
Susie Green now says that she encouraged GenderGP to extend its practice to children. Gender GP practices a model that does away with lengthy psychoanalytic assessment processes which it calls "intrusive and over-bearing questioning", and instead offers hormone prescriptions based on "acceptance and informed consent".
As the evidence in the Webberley tribunal confirmed Gender GP prescribed puberty blockers to an 11 year old after just 3 hours of discussion with a psychologist.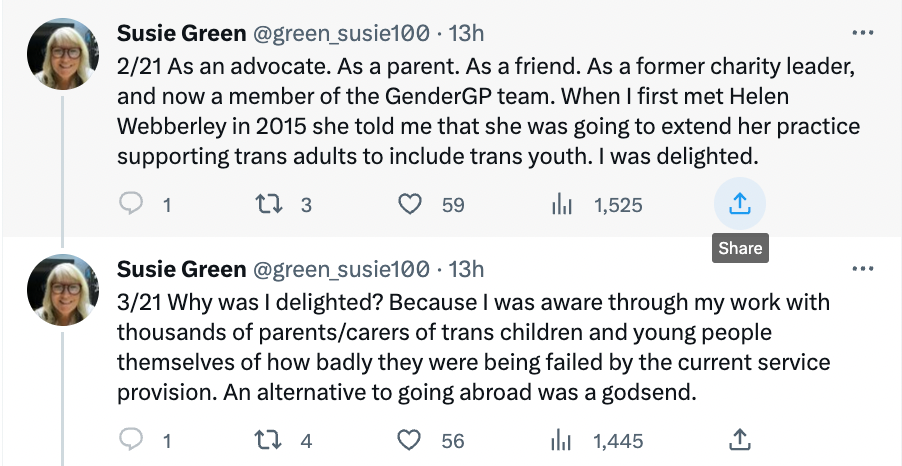 Susie Green agrees that young people "desperately needed access" to the blockers and hormones that Gender GP prescribe without asking too many questions.

Allegation: Mermaids promotes questionable statistics in relation to suicidality in children and young people with gender identity issues
Concerns were raised that "Mermaids has used statistics which some argue misrepresent the actual position and this can unhelpfully sensationalise the issue thereby causing fear and anxiety among young people and their families."
Mermaids denied this. The lottery fund said it believes "that any data or information used should be done so responsibly and thoughtfully given all the audiences for which it is relevant".
Now Susie Green claims GenderGP saved "countless lives" by enabling children to take blockers and hormones, and that young people are "dying on the [NHS] waiting list".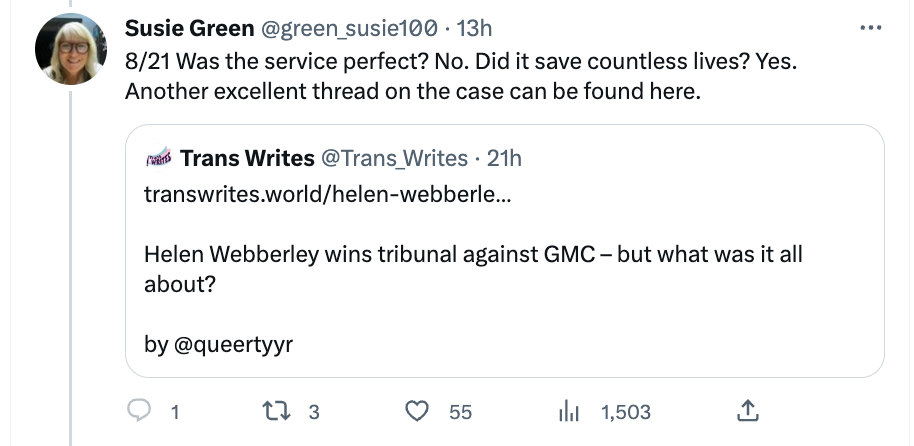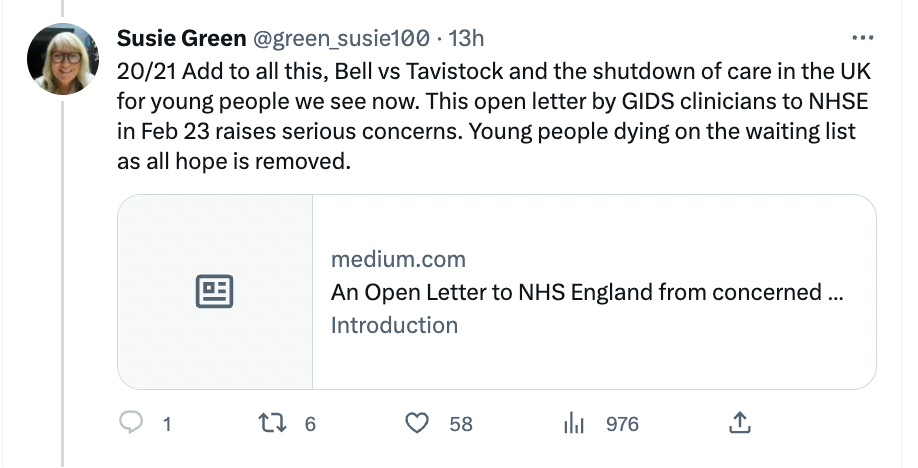 Allegation: Mermaids prematurely supports the view that all gender non-conforming children will go on to be transgender.
The National Lottery reported that much of the negative correspondence received "suggests that the Mermaids encourages children and their families to prematurely accept/consider that the longer term outcome for them will be to transition". It noted that:
"Mermaids say that the vast majority of young people they see will continue with their gender reassignment process whilst the GIDS outcomes appear to be the opposite."
Mermaids denied the allegation that it promotes transition and the Lottery cautiously accepted this saying that Mermaids should work with an academic partner/evaluator to explore the reasons why its longer-term outcomes may differ from other services such as the Tavistock and that this would be a condition of the grant (there is no sign that it has done this).
Susie Green now openly says that she views the GIDs approach of watchful waiting as "the worst" and that she supported families to complain about it.

Allegation: Mermaids adopts an approach which is contrary to scientific evidence and suggested standards for support for children with gender non-confirming experiences
Concerns were raised that Mermaids practice is contrary to and contradictory of accepted best-practice standards in the UK as advocated by the Tavistock GIDS service.
Mermaids denied this.
Susie Green took her own son to the US for puberty blockers at the age of 12 and to Thailand to be castrated at the age of 16.  She now says she did this is because the NHS "failed" to give her son this treatment, that she will never regret what she did and that she "didn't hesitate" to recommend GenderGP to families.

In her thread Green dismisses concerns by social services and other doctors while saying she was cheering on GenderGP from the side-lines.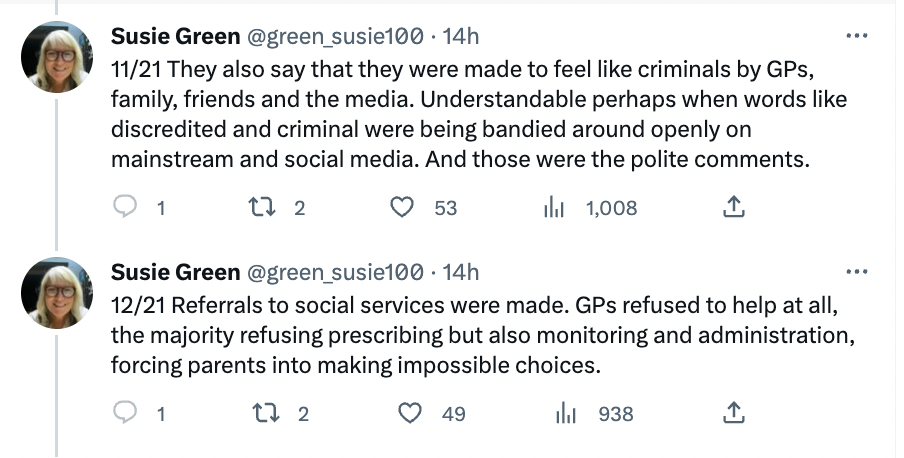 Allegation: Mermaids encourages families to seek treatments from Private Practice that don't follow UK NHS guidelines  
The National Lottery says
"The inference in much of the negative correspondence received is that Mermaids directly refers to a GP whose practice is outside of accepted best practice standards and who is currently under investigation by the General Medical Council."
Mermaids denied this allegation multiple times:
"Mermaids states it is not involved in any clinical capacity and that its involvement is only to provide information on services and pathways available to children, young people and their families."
"Mermaids states it does not encourage families to go to private practice."  
"Mermaids states that it does not refer directly to any private GP."
"Mermaids also states that it does not, and would not refer, to any suspended GP."
The National Lottery said that:
"During the review there was no evidence found that Mermaids has made a direct referral to the private GP."
Susie Green now says that while her public messages tried to protect the charity from media scrutiny, privately she told families what she would do if   appointments with GIDs  "failed to result in any progress for their child". She describes giving these private messages to families as "refusing to lie", and says that she can now speak out with unapologetic honesty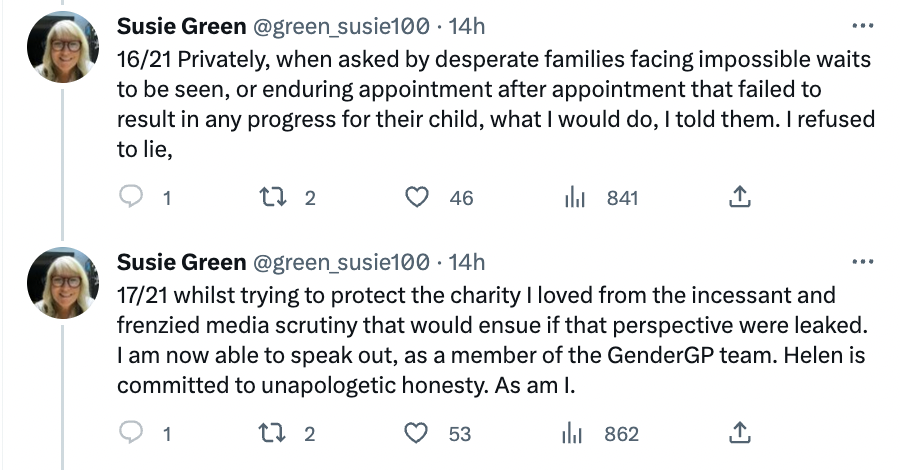 Criticising the National Lottery for giving this grant to Mermaids was one of the reasons that Mermaids said LGB Alliance should not have been given charitable status, when it took the Charity Commission to court for doing so.
Mermaid's Chair Belinda Bell said in her witness statement to the tribunal that the "LGB Alliance's complaints about Lottery funding are particularly concerning" and that the review by the national lottery had "caused significant inconvenience and uncertainty to Mermaids".
Belinda Bell said that LGB Alliance makes "inaccurate claims" about Mermaids and said that Mermaids does not recommend medical treatment or give medical advice.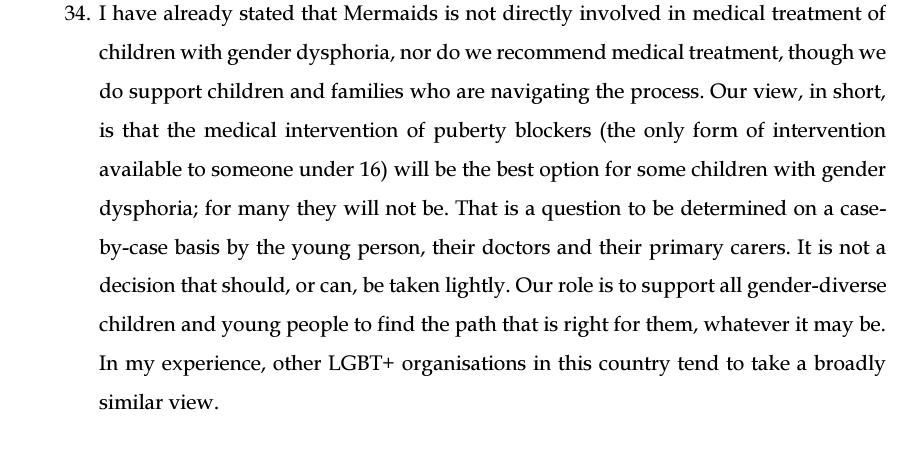 The "unapologetically honest" public statements by Susie Green denigrating the NHS pathway and the opinions of patent's GPs, and admitting that while acting as CEO of Mermaids she actively encouraged the setting up of the GenderGP  private prescription service for children, and recommended it to families is in stark contrast with what Mermaids told the tribunal.